Cegelec Défense Solutions & Services designs, produces and maintains (MRO) a wide range of medical commodities, ranging from simple emergency stations to mobile surgical hospitals.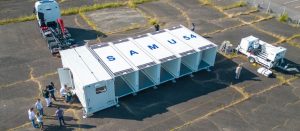 INTEGRAL MEDICAL COMMODITIES FOR EMERGENCY AND EXPEDITIONARY MEDICAL SERVICES
Cegelec Défense expertise in the design and manufacture of Forward  Deployable Emergency Medical Shelters is based on crisis and battlefield proven field deployments of equipment.
The experience gathered as a supplier to the Medical Emergency Medical Services (SAMU) and hospitals, French Armed Forces, and Civil Defence as well as other NATO customers benefits to Governmental and Public requirements for the provision of adapted and effective containerized commodities.
Versatile expandable shelters convert into medical Emergency Modules, from forward medical posts or ICUs, surgical units and comprehensive NATO Role-2 or Role-3 mobile hospitals.
CEGELEC Défense medical solutions are designed to address transportation and logistic constraints and can be used in any environment, to support expeditionary operations in crisis situation : from humanitarian Relief operations in response to disasters or to support local populations and reinforce/replace existing or dammaged medical infrastructure.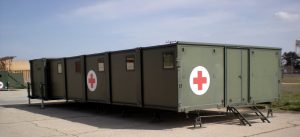 Download the Medical Support sheet for more details