Measurement
Software
Main functionalities offered by AMS2000 :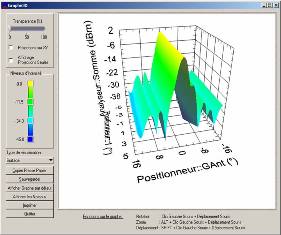 Runs on PC with Windows NT4 SP6, Windows 2000 or Windows XP.
Material and software separation between data collection and operation tasks executed by different programs located on the same or distinct computers connected by ethernet TCP/IP network (customer server technology).
Thorough automation of the measurements thanks to the concept of script which the user can create, modify and backup in a completely autonomous way (picture).
Exploitation of all the possibilities integrated by the Measurement Instruments Manufacturers when a driver is available. This provides a great flexibility of these instruments and adaptation to each operation context.
Connection between measurement PC and equipment by IEEE488, RS232C or Ethernet TCP/IP connections.
Storage of configuration and measurements parameters to a local or networked data base.  The Data Base Engine can be on of the standards of the market to the choice of the customer, only if it provides an ODBC interface.
Results storage in binary files referenced by the data base, but also containing all information on the measurement context and configuration for after exploitation in an autonomous way.
Total traceability of the measurements essential for meeting the quality assurance requirements.
Real time graphic display of the measurements during the acquisition.
2D layouts, cartesian or ploar representation, linear or logarithmic scale curve, zoom in or out.
3D layouts with the display of iso levels curves on a plan.
Exportation of measures towards TD200, excel or ASCII text files.